When property and lives are at stake, make sure you get the best advice about fire suppression systems.
Do you know what systems you need in your high-risk, high-value locations?
When property and lives are at stake, make sure you get the best advice about fire suppression systems. Response one Fire Protection starts by helping you ask the right questions. Then, we do more than answer them.
Types Of Fire Suppression Systems
Small Space Protection Systems
Sometimes the smallest spaces are the most difficult to protect. See how you can reduce even the most critical small space fire risk
Clean Agent Fire Suppression
Protect high-value assets like data centers or priceless artifacts in a museum with waterless, environmentally friendly clean agents.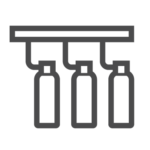 Carbon Dioxide (CO2) Systems
Reduce downtime and increase protection with a rapidly expanding carbon dioxide gas fire suppression system that lowers oxygen levels to prevent combustion.
Response one Fire Suppression Installation Includes:
The installation of a commercial fire suppression system on your site.
Detailed consultation from our experienced Field Technicians
Finished design and drawings
The plans, permits, and approvals your business needs
Complete system testing and final inspection
The foam used for fire suppression has three components. Foam concentrate, water, and air combine together to create foam. When the suppression system is triggered, it releases a blanket of foam. Fires are extinguished by a combination of cooling and smothering of the flames. The foam also traps flammable vapors that could possibly ignite.
Call 030 27 0358 or fill out the form below and and Response One Ghana Specialist will call you, from time to time, about Response One Ghana offers.
By clicking the 'Contact Us' button below, I agree that an Response One Ghana specialist may contact me via text messages or phone calls to the phone number provided by me using automated technology about Response One Ghana offers and consent is not required to make a purchase. Your information is collected and used in accordance with our privacy policy.
Frequently asked questions
Most frequent questions and answers
Many benefits can come from a foam fire suppression system. Foam is more effective than fire sprinklers at putting out hotter fires due to its ability to quickly cool a fire. It also is faster at putting out a fire which means less property damage due to fire. In addition, this form of suppression is more effective at preventing the re-ignition of a fire because it suppresses flammable vapors
Fire suppression systems are used to extinguish or prevent the spread of fire in a building. Suppression systems use a combination of dry chemicals and/or wet agents to suppress equipment fires.
This system uses inert gases—such as nitrogen, argon, and carbon dioxide—to reduce the oxygen level around the fire and suppress it in the process. The concentration of gases used in Inergen systems is safe to use around people.